Speclux Car LED Strip Lights: Add Extra Appeal to Your Ride
Ride or die, right? At least, those are lyrics of dope hits that speak of the dopeness you and your car have, with booming bass and dub-stepped harmonies playing in the background. Your car is a second home in that you treat it with much care and dare we say it, respect. So thinking of car decor isn't too much of a surprise.
Looking to pimp your 4-wheeled vehicle (we want no trouble from the show of a similar title) but want to be easy on the spendings? You're going to have your mind explode with car LED strip lights! It's got easy-to-install features and lights that will blow the bejeezus off of a too-expensive car revamping!
You shouldn't have to burn your wallet or your bank account for your vehicle, no matter how much you love it. Let's talk and think "practical". That's always the best way to go. Especially when you're on a tight budget but still want to pamper your wheels.
Here are tips and reminders regarding how you can start and get the hang of using car LED strip lights for that extra chilli sauce on your already saucy automobile.
Are Automotive LED Strip Lights Bad for Eyes?
Car LED strip lights emit a warm flow meant to be a sort of duplicate of natural light. Conventional incandescents, the light sources that most households and industries have been relying on pre-LED, are not so. They rate higher with regards to wavelength, which, in the long run, can be harmful to your optics.
Alright. Whoah, there. Hold your horses, erm, your steering wheel. We won't drown you with unnecessary jargon. We merely want to point out properties as they are. Do read on.
Another reason why LEDs are better for sight is that they offer a lower brightness. This is why artificial WARM light is a good choice. They're safer on your eyes. So the closer a light source's luminance is to natural light, as mentioned above, the better.
Although, that goes to say that we should moderate our use of artificial light, no matter the source.
How Long Do Auto LED Strip Lights Last?
This one's going to be dependent on the type of car LED strip lights you purchase. Its brand, its make, and its materials. At the same time, the frequency of usage will play a huge part in this as well.
Still, there's a general number that seems to be acceptable, when answering that question. And speaking strictly in that sense, generally, auto strip lights last for about 30,000 hours. That's a total of a little less than 3 and a half years!
Talk about a cost-efficient way of doing some minor tweaks to upgrade the look of your automobile.
To add to this, your stip lights will reach than lifespan if you use them sparingly. Needless to say, the more you utilize them and leave them on for hours on end every day, then expect that number to be shortened. But only by a bit.
How To Install Car LED Strip Lights?
Most car LED strip lights to follow the same procedure with regards to installation and setting up. Though technically, there's a general method in doing so, we'll still tackle them step by step for your convenience.
First and foremost, check the surface you'll be attaching these strips to. For underneath your vehicles, look for small openings. As for your car's interior, you won't have much of a problem since you can simply stick the strips onto your dashboard, car seats, etc.
Going back to the first, attaching them to your car's underside will take more than sticky adhesive. Have someone hold the strip in place while you utilize zip-ties to hold them steady. A tip: wrap zip-ties around the strip for every 12 LED bulbs.
Now comes the more tedious task. Extend the 4 wires all the way to the engine, until they reach the module box. Connect them to said module box. If the wires are a little short, then go ahead and attach extension wires to them.
Finally, as we always say, red on black, or positive on negative. If they're colored differently, check the User Guide to make sure you're connecting them to each other properly. Situate the module box away from the engine but near the battery and extend its antenna.
Test to see if your car LED strip lights work!
Speclux LED Strip Lights for Car Interior
Want to flash your car by letting it flash in a brilliant way? Speclux's Car LED Strip Lights Inter With Remote Control are all the lights you'll need in your automobile. Instead of looking for a party elsewhere, these flexible neons will make your car THE party itself!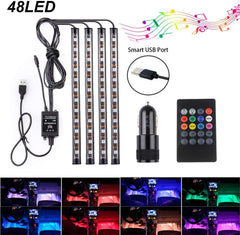 Remote Controlled And Wireless
You can control these strips wirelessly via the remote control the set includes. Choose among 8 colors to suit your mood and your driving vibe, along with brightness and fading. By the way, it has a sound-activated mechanism that lets it change colors simultaneously as the beat of your playlist changes!
Pros
Color changing syncs with music from your own car's stereo
Strips have an almost transparent appearance to blend well into any surface
Comes with a car cigarette charger
Cons
Some customers have complained that its adhesive isn't too sticky.
Where to buy: https://specluxs.com/products/car-interior-lights-48-leds
Bring more lights to the table! Rather, to your car, via Speclux's Car Interior 72 LEDs LED Strip RF Remote Control. You'll have twice as much ammo in these strips, for a brighter glow in your vehicles interior decorative lights.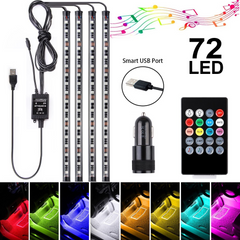 72 LEDs In Total
More LEDs mean a more stunning glow for your car. That, and you can have them in a variety of settings: 3 dynamic modes and 7 static modes, all of which have colors that you can remotely control.
Pros
More individual LEDs than the average strip
Comes with a car cigarette charger
Cons
Some customers have complained that the Radio Frequency remote has a very short range.
Where to buy: https://specluxs.com/collections/car-interior-lights/products/car-interior-lights-72-leds
Conclusion
Don't waste your money having someone else design your car's interior when you can DIY it with Speclux's car LED strip lights. Let them glow along with the beat of any type of music you play, and have your own rave wherever you drive!