Speclux PC RGB LED Strip Lights: Make Your Computer Fancier
It's no secret that an LED strip is a step that takes dull to funky fresh and psychedelic in a snap! Use them on furniture or as additional decor in your room and you'll revamp your space without wasting your time, effort, or your money!
We're sure you've thought about how you can change the overall vibe of your gaming space. After all, you spend hours in front of your computer. On a daily basis, that can get boring and nobody wants to work in such an environment.
If you could amp up your pc-space appearance and get going with the tasks you need to complete in front of your screen (games, rather)… that, and magically adding pizzazz to your equipment, perhaps now is the best time to consider utilizing a pc led strip! They're affordable. They're easy to use. And they sure as heck are going to make you want to get the show going!
However, you might be wondering how on earth one can go about it? What are the guidelines to follow when choosing pc led strips to warrant that they're suitable for your personal computer and its CPU case rigging? Worry not because as you read on, you'll find out what to look for in these pc lighting decors and how to set them up.
How To Choose RGB LED Strips For PC
The most important tip to remember is that it isn't as simple as pasting LED strips on your pc. Period. Although the process of fixing said light strips IS uncomplicated, there are a few things you'll want to factor in when it comes to choosing the RGB strips for you.
First, "know your case". Literally and metaphorically. Take a closer look at its make and its color. The latter is among the key properties that's important in choosing the ideal LED strip. If you've got your processor encased in jet black or clean white, it's the easiest to match. Any kind of strip light color will work great against these 2 shades.
On the other hand, if the unit is shelled in more striking hues like red, blue, etc., it will be best to have an undertone instead of matching the light color to it. We suggest that instead of red on red, pick white on red for its glow to be softer to the eyes, and the like.
Second, and still very much related to the first, casings with glass or plastic panels are a great way to show off pc LED strips. By the way, as a side note, luminance is an excellent method of keeping unsightly wiring away from sight through hiding them in "brightness". So you might want to situate strip lights around such areas, too.
Finally, measure, measure, measure. Aside from the cables and wires installed in the unit, you're going to have to add the wires attached to the pc LED strips as well. As a result, find spaces or corners where you can neatly "tuck" and secure them in.
How To Install RGB LED Strips On PC?
Assuming you have the correct set of tools for the job, unscrew your PC's rear screws carefully. They're in-charge of holding the side panel up so be sure to hold said panel to support it once it becomes unhinged.
Next, it's probably time for a bit of cleaning. Use a pc brush and whiff it about until the dust clears. Now, you have a full view of the interior of the processor.
The subsequent step is to see which portions are viewable from the outside--- glass or plastic panes, perforations for ventilation, etc. These are the best areas for sticking pc LED strips around.
Cut the strips along the safe-marked lines in 3s. Note this. Very important. Following that, connect the strips to their accompanying wires. You'll have to use a solder gun for this task. Attach the appropriate wire (red and black, white and black, etc.) as such--- positive connects to negative. Hot glue can be utilized to fasten them in place.
The very first end of the pc LED strip most often than not has 2 wires connected to it. This pair is what will be connected to power. As the same rule applies, positive connects to negative. And as in the procedure before, secure them well.
Afterwards, link the connector (male), which you will then link to the power supply of your pc. Hence, when you turn your computer on, the strips should come to life as well.
How To Control RGB LED Strips For PC?
There are 2 common techniques in controlling pc LED strips. Some kits have only one. A few others have both. Through an RGB header which is directly connected to your processor's Motherboard. The other, through the pc LED strip kit's key controller.
Different Kinds Of PC RGB LED Strips Light
1. Speclux LED Light Strip For PC, 4-Pin, With Remote Control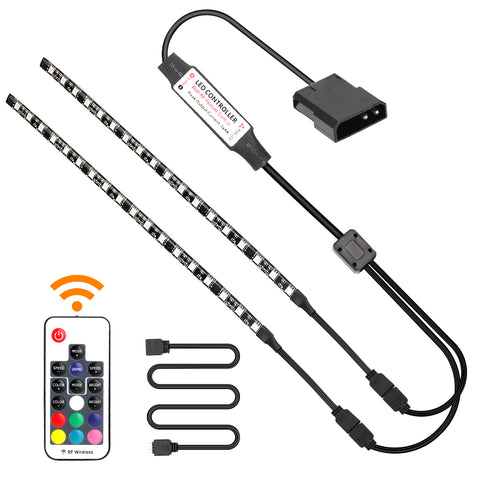 There's a reason why this is a favorite among remote-controlled pc LED strips. When it comes to lights that do more than flash a single color the entire time, here's an alternative. The LED Light Strip For PC, 4-Pin, With Remote Control.
A Blast Of Multicolors In 4 Modes
Be the master of lights and not only of the realm you've conquered in your massively multiplayer online game! PC LED strip lights, that is. Maneuver illumination in 16 colors with a remote control that has 24 buttons for 24 dynamic selections.
At 5050 SMD, you'll be assured to get awesome brightness that can be dimmed according to preference.
Pros
Its remote control is easy-to-use for tweaking brightness, static to dynamic settings, and color
Speclux 5050 SMD; brighter than most LED strips
Contains magnetic insertions
Cons
A few customers have complained about receiving incomplete kits.
Where to buy: https://specluxs.com/collections/pc-strip-lights/products/remote-controlled-rgb-led-strip-lights-for-computer
2. Speclux LED Strip PC Lights With RGB Sync Mode
Up your gaming area at home in a totally rad way with the Speclux LED Strip PC Lights With RGB Sync Mode. These strips have a lasting quality which will have you utilizing them for a long period!
Animation And Synchronization For The Ultimate Lighting Experience
Synching has never been this dope with pc LED strips. Animation can, at last, be whipped out from your screen and onto your processor's exterior! Brighter than ever, animate your LED strips with stunning RGB sync effects.
Pros
Has 7 magnets per strip for additional mounting strength along with the strip adhesives
4-pin strips have a longer lifespan compared to others
Fold and heat-resistant
Cons
A few customers have complained about the strips not having markings for splicing.
Where to buy: https://specluxs.com/collections/pc-strip-lights/products/rgb-led-light-strip-for-computer-2pack
3. Speclux LED Strip 4Pin PC Light, 3 Pcs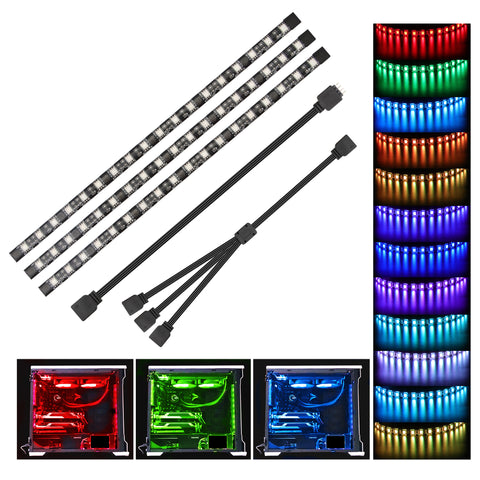 Count with us. One? Two? Three! That sounded childish but hey, you're getting a kit that has 3 pc LED strips with the Speculux LED Strip 4Pin PC Light, 3 Pcs. That's one, or even two, more than what you might bargain for with other brands.
Easy-Peasy Installation
You're a gamer who's constantly in front of your PC and it's a challenge to make room for installing pc LED strips that are too complicated to set up. Thus, you'll love how these work the way you imagine stickers do. Peel off their back and stick them onto the pc case. Plus, their magnets secure these strips for additional support.
Pros
Compatible with universal measurements
Lighting effects and color can be synced
Cons
A few customers have complained that this works on specific motherboards only.
Where to buy: https://specluxs.com/collections/pc-strip-lights/products/rgb-led-light-strip-for-pc-case-3pack
4. Speclux Computer LED Strip Kit Dreamcolor Dual Control, RGB 3Pin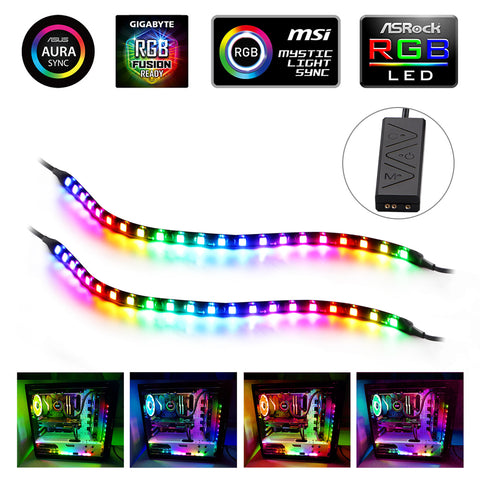 Multicolor your way into lighting fixtures that will transform your computer space into an LED haven! Above all, they're safer for your eyes in contrast to fluorescents and other types of bulbs. Here's the Speclux Computer LED Strip Kit Dreamcolor Dual Control, RGB 3Pin.
Dual Control For Dual Usage Convenience
Speclux has raised the notch even higher with mechanisms for monitoring that involve 2 approaches--- through a 3-pin header on a Motherboard as well as this kit's own key controller. By the way, the key controller is compatible with different types of Motherboards.
Pros
No need for clips and screws so long as you stick these strips on a dry surface like iron
Has a special coating for uniformity in light diffusion and emission
Brightness and speed are in 5 levels  
Cons
Cannot be spliced into shorter strips
Where to buy: https://specluxs.com/collections/pc-strip-lights/products/led-argb-pc-light-strip-kit
5. Speclux PC LED Strip Kit Dreamcolor Synchronized, 2Pcs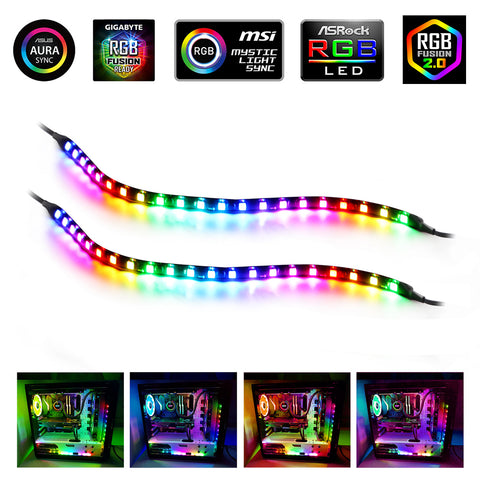 Speclux has made it easier for you to position and affix the LED strip on your computer's unit. Instead of scratching your head and watching puzzle-worthy YouTube DIY videos, get a hold of the Speclux PC LED Strip Kit Dreamcolor Synchronize,2Pcs.
Great Even For PC LED Strip Newbies
If you don't have any experience at all with link cables and wires, let alone for pc LED strips, here's a solution that will arrive in beams of glowing lights. And we mean that very literally! This pack of 2 strips has its own extension cable, a 3-pin header, and of course, a User Guide that's totally an easy read for anyone.
Pros
Screws and other fasteners not required
Convenient synching and dimming
Cons
Solely operated through the manual digital control
Where to buy: https://specluxs.com/collections/pc-strip-lights/products/led-argb-pc-strip-lights
6. Speclux Dreamcolor PC LED Strip Kit Addressable, 19.7In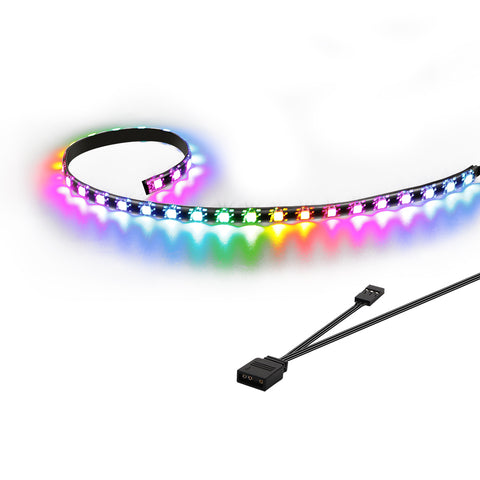 Length matters. At least with pc LED strip lights. Tons of strips out there boast of color and brightness but are lacking in length. Not so with the Speclux Dreamcolor PC LED Strip Kit Addressable, 19.7In.
A Longer Piece For An Even Longer Time Running
When thinking of how you can utilize LED accessories to vamp-up your gamespace at home, extending strips can prove a task too effortful. With a longer-than-average strip, you can cut or lengthen away easily to match the size of the area you'll be decorating with lights.
Pros
Can cover longer and wider surfaces
Addressable strip for light control through supported software
Cons
Where to buy: https://specluxs.com/collections/pc-strip-lights/products/extextented-pc-argb-led-strip-light
Conclusion
Your gaming space (for others, a workspace) will never again be dull and dim! So long as you have Speclux's pc LED strips, your pc will glow boss-like because after all, you are the boss! Just always remember to take the utmost care when handling hot tools. Other than that, Speclux offers pc lights that are easy to assemble and install. So light up your computer with these stunning LED strips!